Thursday night, July 28th
vs. New York Swag
First Game 7PM - FINAL
Second Game - FINAL

1
2
3
4
5
6
7
R
H
E
NEW YORK SWAG
0
0
0
0
0
0
0
2
1
BRAKETTES
1
0
2
0
4
1
8
13
0
Batteries: Swag- Nicole Rosner (L) and Nikki Wild; Brakettes- Megan Good (W, 3-0) and Mary Sciglimpaglia
Homerun: Denise Denis (8)

1
2
3
4
5
6
7
R
H
E
NEW YORK SWAG
0
0
0
0
0
0
2
1
BRAKETTES
1
1
9
0
x
11
11
0
Batteries: Swag- Jackie Hoffman (L) and Nikki Wild; Brakettes- Patti Sciglimpaglia (W, 10-1) and Hannah Cooper


Live Webcast A/V Stream

Sunday Night
Brakettes Drop Battle of the Sexes III to Bluefish

The Stratford Brakettes and Bridgeport Bluefish clashed on Sunday in Battle of the Sexes III, with the teams' aces trading scoreless frames for most of the contest. The score was knotted up at 1-1 until the bottom of the eighth, when the Bluefish plated two runs to propel them to a 3-1 decision, earning Bridgeport its third consecutive win in the series.

The exhibition contest, held annually since 2014, pitted the most successful women's amateur fastpitch club team in America against their nearby Atlantic League (independent) minor league baseball rivals. The nine-inning game was played under fastpitch softball rules, with University of Georgia assistant coach Nick French once again joining the Bluefish to serve as starting pitcher.

While the Brakettes wore their traditional red and white uniforms, the Bluefish opted to wear shorts with their navy blue and teal jerseys. Both squads engaged in some good-natured fun throughout the matchup, with players heckling each other on the field at the Ballpark at Harbor Yard (Bridgeport, CT) throughout the game.

Emily Lochten provided the Brakettes with all their offense in the top of the second inning, launching a monstrous home run to left field off French. The solo shot put Stratford up 1-0, but Bridgeport evened it up in the home third.

Anthony Aresco, a fastpitch player who was also picked up by the Bluefish for the game to catch for French, crushed a home run off Tatum Buckley with no outs in the bottom of the third. The run evened the score at 1-1, which would last into the eighth inning, as Brakette pitchers and French traded shutout innings over the next four frames.

Buckley went four innings and took a no-decision, despite the quality start. Megan Good came on in relief in the fifth inning and threw the last four stanzas.

The Bluefish scored the decisive runs in the home eighth, after Matt Iannazzo led off with a walk. Jesse Litsch reached on an infield single to put two on with no outs. Good struck out the next two batters, but a double steal moved runners into scoring position for the Bluefish. Rossmel Perez followed with a two-run single to right, breaking the tie and giving Bridgeport the lead for good.

Lochten singled with one out in the ninth, but the Brakettes could not muster another run. She had four hits on the night.

Patti Sciglimpaglia picked up two hits for Stratford, including a double. The Brakettes outhit the Bluefish 8-6 in the matchup.

The Brakettes return to action with a doubleheader on Thursday night at 7:00 p.m. against the New York Swag, at DeLuca Hall of Fame Field in Stratford.

All 2016 Brakettes games are live video webcast at brakettes.com.

7:05 p.m. Sunday night, July 24th
vs. Bridgeport Bluefish (exhibition)
The Ballpark at Harbor Yard

1
2
3
4
5
6
7
8
9
R
H
E
BRAKETTES
0
1
0
0
0
0
0
0
0
1
8
1
BLUEFISH
0
0
1
0
0
0
0
2
x
3
6
2
Batteries: Brakettes- Tatum Buckley, Megan Good (5, L) and Hannah Cooper, Mary Sciglimpaglia (5); Bluefish- Nick French (W) and Anthony Aresco
Homerun: Brakettes- Emily Lochten; Bluefish- Anthony Aresco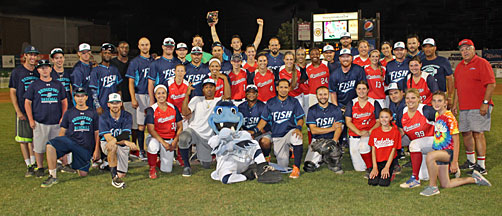 Saturday
Lochten's Hat Trick of Homers, Pitchers Dominate ECD and Voodoo 13-0, 12-0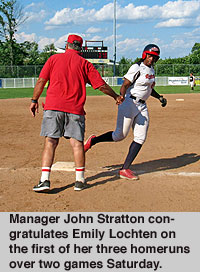 July 24 - by Ilan Woll - The USSSA Brakettes Invitational showcased several teams from the Northeast, and the Brakettes got to face two new opponents, the East Coast Drive of Blauvelt, NY and the Central Massachussets Voodoo on Saturday.

For the first game, Megan Good continued her dominance on the mound, striking out eight of 12 hitters, allowing only a single in the second to Steph Dean and a walk in the fourth. Over her first two games as a Brakette, she has allowed just three hits while striking out 24 in ten innings.

Meanwhile, the Brakettes scored early as Val Suto singled to center and Britt Lampert followed with an infield hit. A walk to Denise Denis loaded the bases, and a sacrifice fly by Emily Lochten scored the first run. Tatum Buckley then grounded the ball to shortstop which was bobbled, and a further throwing error resulted in Lampert scoring for the second run of the inning.

Hannah Cooper started the second with a single, and curtesy runner Patti Sciglimpaglia reached second on a line drive single from Amber Radomski. Lampert then singled for the RBI. In the third, Lochten hit the first of her home runs to deep centerfield to extend the lead to four.

In the fourth, the Brakettes went on an offensive display. Radomski singled, followed by another hit from Danni Kemp. Suto then reached on an error, and an infield hit by Lampert brought in Radomski. Denis walked to plate another run and Lochten singled to score two more. With a wild pitch scoring Denis, consecutive walks to Tatum Buckley and Sarah Benicvenga loaded the bases. Jordan Whitley hit a strong ground ball up the middle, but Kirsten Savage robbed her of a hit, but still drove in a run. Further singles from Hannah Cooper and Amber Radomski and a defensive error resulted in a nine run inning and the Brakettes 13-0 win.

Emily Lochten finished the game with two hits and four RBIs. Britt Lampert and Amber Radomski added three singles, with Hannah Cooper contributing an additional two.

For the second game FAU's Tatum Buckley took the circle against the Central Mass Voodoo of Leominster, MA. Like Megan Good, she controlled the game, allowing just one hit, this time to Liz Dezrochers and one walk while striking out six in three innings.

The fireworks of Short Beach's Blues at the Beach festival extended to Emily Lochten as, following infield singles by Val Suto and Britt Lampert, Emily crushed a ball to rightfield for an early three run advantage.

In the second, Patti Sciglimpaglia singled, and, following a Hannah Cooper infield hit off the second base bag, Mary Sciglimpaglia drove in her sister with a line drive to rightfield, extending the lead to 4-0.

In the third, the Brakettes again finished with a fluorish. Lampert led off with a double, scoring on Denise Denis' double off the fence in right center. Lochten the launched her third shot of the night to right, which chased the starting pitcher out of the game. However, a Sarah Benivenga double continued the rout as Megan Good walked and Jordan Whitley's two bagger brought in another run. Patti Sciglimpaglia drilled a riseball to the leftfield fence, which Callie Andrews corralled, but did bring in another run. Hannah Cooper then singled Whitley to third. Amber Radomski hit a hard fly ball to left, for another sacrifice fly. Mary Sciglimpaglia added the Brakettes' fifth double of the inning, and an infield hit by Suto put runners on the corners, which was followed by an RBI single from Lampert for the final score in the three inning run-rule game.

Emily Lochten's two home runs and five RBIs in the game made her the unquestioned star of the night as she joined Denise Denis and Tatum Buckley for the team home run lead with seven each. Lochten also had nine RBIs over the two games. Britt Lampert hit successfully in each of her three at bats. Lochten, Val Suto, Hannah Cooper, and Mary Sciglimpaglia each had two hits as well.

The Brakettes return to Harbor Yard in Bridgeport on Sunday for the third annual Battle of the Sexes, facing the Bridgeport Bluefish in a special 9-inning exhibition game. The following week the New York Swag come to Stratford on Thursday and Friday before the Brakettes visit Lyons, PA as the Spirit celebrate many of the Lehigh Valley's past greats. All games will be broadcast on brakettes.com.

Saturday, July 23rd
USSSA Brakettes Invitational
4:50 PM - FINAL
8:00 PM - FINAL

1
2
3
4
5
6
7
R
H
E
BRAKETTES
2
1
1
9
13
14
0
ECD 23U
0
0
0
0
0
1
4
Batteries: Brakettes- Megan Good (W, 2-0) and Hannah Cooper; ECD- Tiffany Irrera (L), Erika Vasti (4) and Steph Dean
Homerun: Emily Lochten (5)

1
2
3
4
5
6
7
R
H
E
VOODOO
0
0
0
0
1
1
BRAKETTES
3
1
8
12
13
0
Batteries: Voodoo- Madison Milaszewski (L), Rachel Frisch (3) and Ali Lane; Brakettes- Tatum Buckley (W, 15-1) and Mary Sciglimpaglia
Homerun: Emily Lochten 2 (7)
Friday Night
Good Shines in Premiere as Brakettes Sweep CT Seahawks 8-0, 12-0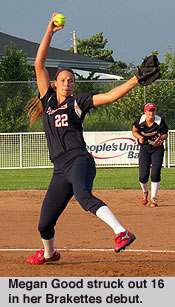 July 23 - by Ilan Woll - Megan Good, a strong part of the dominant James Madison Dukes rotation, made her debut in Brakettes Blue, facing Nicole Koshes of the Connecticut Seahawks. Good instantly made her presence known, striking out three of the first four hitters she faced, allowing only a walk.

Meanwhile, early control issues benefitted Stratford. Following Val Suto being hit by a pitch and sacrificed into scoring position, Denise Denis and Emily Lochten walked, loading the bases. Tatum Buckley then cleared the bases with a double off the fence in centerfield to gain the early 3-0 lead.

Nicole Koshes then showed excellence, allowing only one baserunner in each of the next three innings before being replaced in the fifth. In that inning, Mary Sciglimpaglia singled to left, advancing on a bunt single by Suto. Britt Lampert then singled to fill the bases. Denis lined a hit to rightfield for an RBI. A ground ball by Lochten scored the Brakettes fifth run.

With two outs in the sixth, the Brakettes ended the game as Danni Kemp doubled to deep left. Mary Sciglimpaglia reached on an infield hit. Suto then had her first extra base hit of the season, tripling to rightcenter to bring in two. Lampert then drilled a pitch down the rightfield line to end the game on run rule.

Megan Good was spectacular in her premiere, striking out 16 Seahawks and allowing only two hits and one walk in six innings. Offensively, Val Suto had three hits, while Britt Lampert and Mary Sciglimpaglia contributed two each.

For game two, Tatum Buckley faced off against Melissa Pereira. Buckley allowed lead off base runners in each inning, but kept them all away from home plate in the winning effort, striking out five in three innings.

Offensively, the Brakettes went on a tear. Val Suto singled to lead off the game and Britt Lampert took advantage of a throwing error, which scored Suto. Denise Denis and Emily Lochten had back to back RBI doubles. Singles by Hannah Cooper and Amber Radomski finished off a five run inning. In the second, RBI singles by Denis and Cooper and a sacrifice fly from Megan Good brought in an additional three.

With a new pitcher in the game, Denis doubled two runs in and Jordan Whitley had a single to center, plating the final two runs as the game was decided by run rule after three innings.

Val Suto added another two hits, and reached successfully in each of her appearances for the day. Denise Denis had three hits and four RBIs. Britt Lampert and Hannah Cooper each had two hits in the shortened game.

The Brakettes return Saturday at Frank DeLuca Hall of Fame Stadium to play two new opponents, the East Coast Drive from Dutchess County, NY and the Central Massachussets Voodoo in the USSSA invitational. On Sunday, they will play the Bridgeport Bluefish in the Third Annual Battle of the Sexes at Harbor Yard in Bridgeport at 7:05pm ET in a single 9-inning exhibition. All games will be broadcast on brakettes.com.
Friday night, July 22nd vs. CT Seahawks
First Game, 7PM
Second Game

1
2
3
4
5
6
7
R
H
E
CT SEAHAWKS
0
0
0
0
0
0
0
2
1
BRAKETTES
3
0
0
0
2
3
8
10
0
Batteries: Seahawks- Nicole Koshes (L), Haley Congdon (5) and Kaley Kempf; Brakettes- Megan Good (W, 1-0) and Mary Sciglimpaglia


1
2
3
4
5
6
7
R
H
E
CT SEAHAWKS
0
0
0
0
2
2
BRAKETTES
5
3
4
12
13
2
Batteries: Seahawks- Melissa Pereira (L), Haley Congdon (2) and Carly Marchitto; Brakettes- Tatum Buckley (W, 14-1) and Hannah Cooper

--- NEXT BRAKETTES GAME ---
7:00 PM Thursday July 28th
vs. New York Swag (2)

---
7:00 PM Friday July 29th
vs. New York Swag (2)

Video Archive on