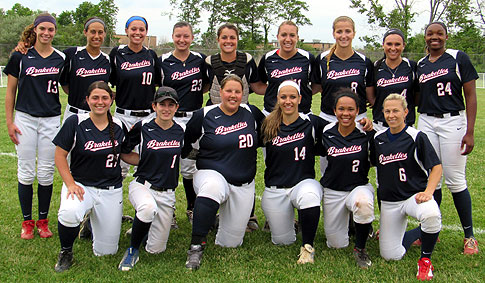 Saturday Night

Ricciardone perfect in twin bill victory over Mass Pride 4-0, 8-0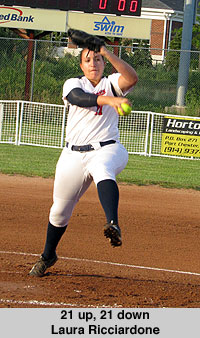 July 26, 2015 - by Ilan Woll - Day 2 of the weekend series between the Mass Pride and the Brakettes began with Mercer University's Anna O'Neil facing off against Laura Ricciardone.

Val Suto led off the game with a slap single to third base, just beating a strong throw from Patty Borges. Suto stole second and then, with two outs, scored on a single up the middle by Emily Lochten for the first run of the game.

The third inning saw Stratford add another run as Mary Sciglimpaglia singled, and, with Katie Petroski coming in as a pinch runner, advanced on a Brit Lampert single. Following a passed ball and a Lochten walk, Elena Bowman slammed a hard single up the middle, scoring Petroski for the 2-0 lead.

UMass's Meg Colleran entered the game in the fifth inning and started with a perfect inning, then following a walk to Lochten, Elena Bowman slammed her sixth home run to left field to extend the lead to four.

Laura Ricciardone, conversely, retired all twenty one batters she faced for her second perfect game of the season. She struck out ten and did not allow a ball to leave the infield. She extended her record to 11-2 on the season. Emily Lochten got on base in every plate appearance and Elena Bowman had two hits in the game.

Game 2 started with two UMass pitchers facing each other as current Minuteman Meg Colleran faced top alum Brandice Balschmiter.

The Pride threatened early as Alexis Debrosse slapped a curveball into right field with one out and Alyssa Zahka walked. Balschmiter then struck out the next two batters to end the inning.

Colleran pitched two excellent innings against the Brakettes, allowing just one hit before being replaced by Columbia University's Kayla Maloney. In the third the home team finally got on the board as Katie Petroski doubled with two outs, then scored on a throwing error to take the lead.

In the fourth, the fireworks really started as Denise Denis hit a ground rule double, and Emily Lochten and Elena Bowman both singled to bring in Denis. Tatum Buckley then hit a towering fly ball to left field which brought in a run. Cassie Ruscz then hit another ball to the fence, bringing in Bowman. Mary Sciglimpaglia then singled to advance Ruscz, but was thrown out at second by an excellent throw and left the Brakettes with a 5-0 lead.

The fifth started well for the Pride as, after a Val Suto single, Maloney forced a line drive and force play for the first two outs. However, the third out did not come as Lochten singled and Elena Bowman singled, scoring Denis and Lochten. However, the ball went under the center fielders glove and to the fence, putting Bowman at first. Buckley then singled, scoring Bowman to end the game.

Brandice Balschmiter (13-2) was dominant throughout the game, allowing just the one hit, striking out nine in five innings.

Next weekend the Brakettes are on the road playing the Queens Lady Rangers and NYC Havoc. The games will not be broadcast. The next home series will be August 4 against the St. Louis Saints. Following that, August 6-9 is the Women's Major Softball National Championships at DeLuca. In pool play, the Brakettes will play the Queen's Lady Rangers and Dutchess Debs. All tournament games will be webcast on brakettes.com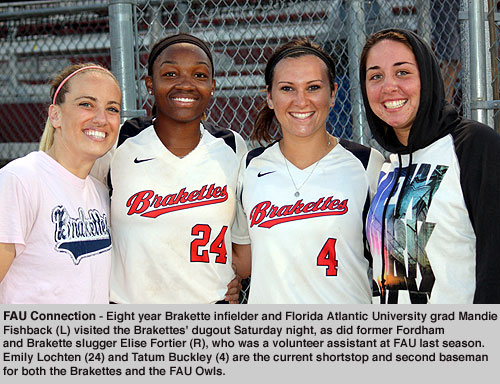 Saturday night, July 25th
First Game, 7:00 PM
Second Game - FINAL

1
2
3
4
5
6
7
R
H
E
MASS PRIDE
0
0
0
0
0
0
0
0
0
0
BRAKETTES
1
0
1
0
0
2
x
4
6
1
Batteries: Pride- Anna O'Neil (L), Meg Colleran (5) and Shelby Stracher; Brakettes- Laura Ricciardone (W, 11-2) and Mary Sciglimpaglia
Homerun: Elena Bowman (6)

1
2
3
4
5
6
7
R
H
E
MASS PRIDE
0
0
0
0
0
0
1
2
BRAKETTES
0
0
1
4
3
8
12
1
Batteries: Pride- Meg Colleran, Kayla Maloney (3, L) and Shelby Stracher; Brakettes- Brandice Balschmiter (W, 13-2) and Mary Sciglimpaglia

Friday Night

Brakettes Outlast a Determined Mass Pride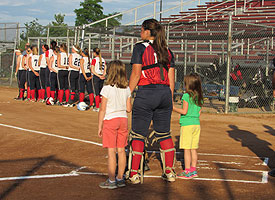 July 25, 2015 -The Stratford Brakettes earned two hard-fought victories against the Mass Pride on Friday night at DeLuca Hall of Fame Field, taking the pair, 5-1 and 3-0.

Laura Ricciardone started in the circle for the Brakettes and led the way with 11 strikeouts. She improved to 10-2 on the year and gave up just one run in the top of the fourth.

Anna O'Neil pitched the first four innings for the Pride, and was relieved by Meg Colleran in the fifth.

Denise Denis provided some early firepower for Stratford in the home first of the early game, smacking the 8th homer of the year and 101st of her career. Val Suto also scored on the long ball, after leading off with a walk and stealing second.

Stratford added to the 2-0 lead with another run in the second inning. Dani Kemp led off with a base on balls and scrambled to third on a single by Sarah Bencivenga. Kemp came home on a passed ball, stretching the margin to 3-0 (photo below).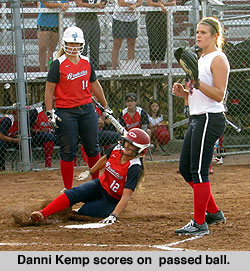 Alyssa Zahka reached on an error to start the fourth frame for the Pride, but was forced out at second on a fielder's choice grounder by Tori Constantin. With two outs, Constantin went from first to third on a double to right-center by Patty Borges, putting two in scoring position.

Taylor Archer singled to center to score Constantin, but Borges was thrown out at home by Suto on a contested call as she tried to score from second. The run closed the gap to 3-1, but the Brakettes would again extend the lead.

The Brakettes picked up two more runs in the bottom of the fifth, when Cassie Ruscz led off with a single. She reached second on a wild pitch, and stayed put when Katie Petroski beat out an infield single. Britt Lampert singled through the left side to load the bases with two outs, and Denis lined a base hit up the middle to score two for a 5-1 score.

Ricciardone retired six of the last seven batters she faced, while striking out the last three batters to close out the decision.

Brandice Balschmiter dominated in the late contest, as she struck out 12 and gave up just two hits. She upped her team-leading record to 12-2 in 2015.

Meg Colleran started for Massachusetts and was relieved in the third by Kayla Maloney.

Denis scored the Brakettes' first run in the bottom of the first, after a double to right-center with two outs. Emily Lochten singled up the middle for a 1-0 edge, which proved to be all Balschmiter needed on the night.

Dani Kemp helped the Brakettes scratch another run together in the third, leading off with a walk and reaching second on a sac bunt by Suto. After Lampert drew a walk, Denis grounded into a fielder's choice. Lampert was forced out at second, but Kemp cruised into third on the play. Kemp crossed the plate on a wild pitch, pushing the lead to 2-0.

Denis scored again in the sixth after a one-out single. She stole second, and went to third on a throw that sailed into shallow center. Lochten followed and singled to left, sending Denis home for a 3-0 margin.

Balschmiter allowed only one baserunner to reach second in the game, as Alyssa Zahka and Taylor Archer had the only base hits for the Pride.

The Brakettes and Pride will be pitted up against each other again on Saturday night, with a doubleheader starting at 7:00 at DeLuca Field in Stratford.

Friday night, July 24th
First Game, 7:00 PM
Second Game

1
2
3
4
5
6
7
R
H
E
MASS PRIDE
0
0
0
1
0
0
0
1
4
1
BRAKETTES
2
1
0
0
2
0
x
5
7
2
Batteries: Pride- Anna O'Neil (L), Meg Colleran (5) and Shelby Stracher; Brakettes- Laura Ricciardone (W, 10-2) and Elena Bowman
Homerun: Denise Denis (8, 101)

1
2
3
4
5
6
7
R
H
E
MASS PRIDE
0
0
0
0
0
0
0
0
2
2
BRAKETTES
1
0
1
0
0
1
x
3
5
0
Batteries: Pride- Meg Colleran (L), Kayla Maloney (3) and Taylor Archer; Brakettes- Brandice Balschmiter (W, 12-2) and Elena Bowman

Thursday Night

Brakettes Sweep Local Round-Robin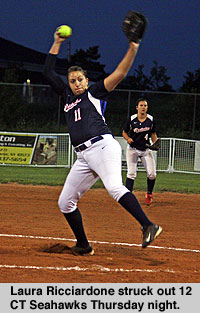 July 24 - The Stratford Brakettes took on a pair of teams on Thursday night at DeLuca Hall of Fame Field, streaking past the Stratford Breakers, 18-2, and the CT Seahawks, 4-0.

Emily Lochten drove in 10 runs in the two contests, starting with a first-inning grand slam against the Seahawks. She went 5-for-7 with three extra base hits.
Sydney Matzko picked up the win to improve to 9-2, striking out four and giving up four hits.

Val Suto got the wheels turning early for the Brakettes, leading off the bottom of the first with an infield single and stealing second. Britt Lampert walked and Denise Denis laced a single off the centerfield fence to load the bases with no outs. Lochten started her offensive display with a grand slam to left, giving the Brakettes an early 4-0 advantage.

Jordan Whitley led off the home second with a base hit to left and advanced on Mary Sciglimpaglia's single to right. Suto then grounded into a fielder's choice, as Whitley was forced out at third. Lampert singled to left field to load the bases. Denis earned a walk to push another run across, stretching the margin to 5-0. Lochten picked up her fifth RBI with a base hit, scoring Suto for a 6-0 lead.

The Brakettes erupted for 10 runs in the third inning, as 13 batters came to the plate.

Tatum Buckley and Cassie Ruscz singled to start the onslaught, and Buckley took off for third, drawing the throw. The toss to third was off the mark, sending Buckley home and Ruscz to second. Katie Petroski walked to put two on, before Whitley reached on an error to load the bases. Sciglimpaglia then picked up the second of her three hits in the game, a two-run double that pushed the lead to 9-0.

Suto walked to put Brakettes on every base, and Lampert delivered a single to left to score two more and make it 11-0. Denis followed and walked, again loading the bases for Lochten, who drove in a run on a fielder's choice. Lampert was forced out at third on the play, but the Brakettes still had two on with one out.

Bowman gave the Brakettes yet another bases-loaded opportunity with a single, and Ruscz came through in a big way. Ruscz blasted her fifth home run of the year, a grand slam which extended the lead to 16-0.

Nicole Cammarata reached on a bunt single to start the Breakers' fourth frame, and scored when Nicole Carrano reached on an error. Carissa Wasikowski doubled to score Carrano, closing the gap to 16-2.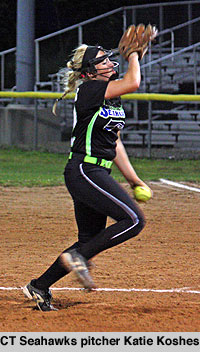 The Brakettes got both of the runs back in the bottom of the inning, after Sciglimpaglia and Lampert singled. Denis walked for a third time, before Lochten came up with the bases loaded for the fourth time in the game. Once again, Lochten delivered with the bases juiced, drilling a double to score two and close out the scoring at 18-2. She finished the game with 6 RBI's.

The Brakettes jumped up quickly on the CT Seahawks in the nightcap, scoring three times in the first. Lampert lined a one-out single up the middle and was sacrificed to second by Denis. Lochten roped a triple to send Lampert home for the early 1-0 edge. Bowman came up next and homered to stretch the margin to 3-0. It was her fifth long ball of the season.

Lampert helped manufacture another tally in the third, after reaching on a leadoff, infield single. She stole second and went to third on a bad throw, then scored on a base hit by Lochten, stretching the margin to 4-0.

Laura Ricciardone struck out 11 for the Brakettes, improving to 9-2 for the year. She gave up five hits in the outing and did not walk a batter.

Katie Koshes started for the Seahawks and took the defeat, but pitched quite effectively after the three-run first. She struck out three and scattered six hits.

The Seahawks sprinted past the Breakers in the first matchup of the night, 15-2, as the games kicked off at 5:00.

The Brakettes return to action on Friday night at 7:00 at DeLuca Hall of Fame Field with a doubleheader against the Mass Pride.

Thursday night, July 23rd
First Game, 7:00 PM
Second Game

1
2
3
4
5
6
7
R
H
E
BREAKERS
0
0
0
2
0
2
5
2
BRAKETTES
4
2
10
2
x
18
16
0
Batteries: Breakers- Megan Ferraro and Amanda Leone; Brakettes- Sydney Matzko (W, 9-2) and Mary Sciglimpaglia
Homerun: Emily Lochten (5, grand slam), Cassie Ruscz (5)

1
2
3
4
5
6
7
R
H
E
CT SEAHAWKS
0
0
0
0
0
0
0
0
4
2
BRAKETTES
3
0
1
0
0
0
x
4
6
1
Batteries: Seahawks- Katie Koshes (L) and Meagan Hodgdon; Brakettes- Laura Ricciardone (W, 9-2) and Mary Sciglimpaglia
Homerun: Elena Bowman (5)
BALSCHMITER, DENIS PROVIDE LEADERSHIP FOR BRAKETTES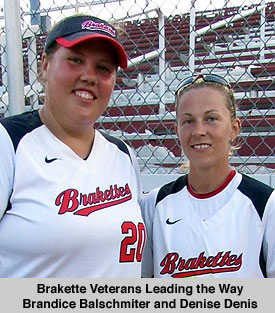 July 22, 2015 - Veteran leadership is what Stratford Brakettes Manager John Stratton attributes to this year's success. Despite the loss of several long-time players and the fact that the team has 11 new players this season, the Brakettes have hardly missed a beat with a 28-6 overall record, following last weekend's USSSA Invitational championship.

The two veterans most responsible for providing that leadership are ninth-year pitching phenom Brandice Balschmiter of Newark, NY, and 11th-year outfielder Denise Denis of Saratoga Springs, NY, who now resides in Stamford. There is a common denominator for both players, as they achieved All-America status while playing at the University of Massachusetts.

"What more can you say about Brandice and Denise," said John Stratton. "Year in and year out they continue to put up some impressive numbers. They have carried our team this year, but more importantly, they have assumed a leadership role on the field. I couldn't be happier."

Both players will be in action this week as the Brakettes quickly move toward the post-season. The Brakettes play Thursday night in a split doubleheader against the Stratford Breakers at 7 p.m. and the CT Seahawks at 8:30 at Frank DeLuca Hall of Fame Field. This is the Brakettes' final home weekend of the season before they begin their title defense in the 7th annual Women's Major Softball National Championship tournament August 6-9. Riding a 14-game win streak, the Brakettes will host the Mass Pride in doubleheaders Friday and Saturday nights at 7 p.m.

Manager John Stratton's club travels to New York for twin-bills August 1-2 against the Queens Lady Rangers and the NYC Havoc. They will play host to the St. Louis Saints on August 4 in a pre-tournament doubleheader at 6:30 p.m. at DeLuca Field.

How good is Balschmiter, who was the fifth overall pick in the 2009 National Pro Fastpitch draft by the Chicago Bandits? A look at her numbers will provide the answer. She is 11-2 this year with a 0.31 ERA and 108 strikeouts in 89 innings of work. The 6-foot-2 Balschmiter, a two-time All-America at UMass, stands at 146-11 in her career, having just passed Rusty Abernethy (145-40) last weekend to move into sixth place all-time in the Brakettes record book. The only people ahead of her are Barbara Reinalda, Joan Joyce, Kathy Arendsen, the late Bertha Tickey, and Donna LoPiano, all members of the National ASA Hall of Fame.

Denis began her career with the Brakettes in 2005 and played in the pro league the following year with the Connecticut Brakettes. She is third in hitting this year with a .400 average, while she leads the club with seven home runs and 36 RBI. Last weekend Denis, the Brakettes all-time home run leader, reached the 100-HR plateau by hitting home runs in three games Saturday.

In addition to her home run leadership, Denis will surpass Dot Richardson (542) and move into 11th place in games played this weekend. She is second in career runs with 543, sixth in hits at 631, having just passed Diane Schumacher, and fifth in both doubles and triples.

"We are so young this year and Brandice and Denise, both of whom have announced they will play again next year, have taken it upon themselves to be the leaders," added Stratton, who is hoping to lead the Brakettes to their sixth straight WMS title.

Tournament passes for the WMS championship event will be on sale at the remaining Brakettes home games.

--- NEXT GAMES ---
AWAY
12 Noon Saturday, August 1
at Queens Lady Rangers (2)

---
2 PM Sunday, August 2
at NYC Havoc (2)